Welcome to the Anti-Preview on Subway Domer! Friends, I'm going to cut through the bullshit. This post was already written and then lost (always the fucking Anti-Preview) so I'm going to fly through this like a boss. Don't worry, don't worry… the good stuff will still be in here. For more blah, blah, blah, there will be an article in Huffington Post soon.
Let's do this…
What Should You Be Drinking?
Gotta go tropical y'all. Miami living. It's loose, kind of plastic-like, and really firm.
Goombay Smash
16 oz. Orange juice
16 oz. Pineapple juice
8 oz. Captain Morgan
8 oz. Malibu Coconut Rum
4 oz. E&J Brandy
Mix everything in a pitcher and pour into an ice filled highball glass. Garnish with a maraschino cherry and an orange slice.
Guaranteed to get AJ McCarron's mom's attention.

What Sould You Be Eating?
Keeping with this tropical theme: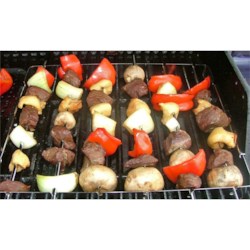 KABOBS
INGREDIENTS:
1/2 cup teriyaki sauce
1/2 cup honey
1/2 teaspoon garlic powder
1/2 pinch ground ginger
2 red bell peppers, cut into
2 inch pieces
1 large sweet onion, peeled and cut into wedges
1 1/2 cups whole fresh mushrooms
1 pound beef sirloin, cut into 1 inch cubes
1 1/2 pounds skinless, boneless chicken breast halves – cut into cubes
skewers
DIRECTIONS: 1. In a large resealable plastic bag, mix the teriyaki sauce, honey, garlic powder, and ginger. Place red bell peppers, onion wedges, mushrooms, beef, and chicken in the bag with the marinade. Seal, and refrigerate 4 to 24 hours. 2. Preheat grill for medium-high heat. 3. Discard marinade, and thread the meat and vegetables onto skewers, leaving a small space between each item. 4. Lightly oil the grill grate. Grill skewers for 10 minutes, turning as needed, or until meat is cooked through and vegetables are tender.
Please friends, do NOT confuse kabobs with fondue. That's just not cool.

Irish Stew
Going to throw this in here even though we have all seen it already. Do it again- run through that wall…
Tweeter
Going to give a shout out to a couple of Subway Domer Staffers living it up in Miami, and words from The Beast.
@thesubwaydomer omg drunkest. twitter.com/phillykelly/st…

— philly kelly(@phillykelly) January 7, 2013
@thesubwaydomer there was definitely a boomtastic BOOM! With @phillykelly twitter.com/GreatShaneND/s…

— Superman TD Jesus (@GreatShaneND) January 7, 2013
When it all comes down Tuitt I do my talking on the field instagr.am/p/UKGWnjghnk/

— stephon tuitt (@DOCnation_7) January 6, 2013
Offensive MVP
Everett Golson. There's no getting around the fact that Golson is the key to Notre Dame's possible success offensively. Alabama has had some issues with mobile quarterbacks that can throw with accuracy, and Golson certainly fits that description. Can he be another of those thorns in Alabama's side? Can he minimize mistakes and maximize every opportunity provided?
If the answer is yes to those questions, and I believe that they will be, than Golson should have a pretty good night that turns into one big ass party in South Florida.
Defensive MVP
Louis Nix. It's as if this Alabama offensive line MIGHT BE THE GREATEST OFFENSIVE LINE IN THE HISTORY OF COLLEGE FOOTBALL HOT SPORTS TAKES HOT SPORTS TAKES. Yeah, it's like that.
In all seriousness, the Bama line is very, very good- but Louis Nix is on a mission from god. He has to be. For all the praise that the Irish defensive front 7 has got this year, Louis Nix deserves a large portion of that. I think Nix will prove to be the toughest test for Bama this season, and in they end, IRISH CHOCOLATE flattens the fuck out of Barrett Jones.
Something Else To Watch For
This is just a quick thought that sums up a lot of what I have been thinking about for the past few hours. I haven't mentioned it before, but the Alabama screen game is a concern to me. Notre Dame has had some difficulty this season in defending them, and that Yeldon screen to win the LSU game is like on repeat in my skull. GET IT OUT OF MY HEAD!
Bragging Rights
This is normally reserved for Rivalry Trophies- but oh wait… this is.

At The End Of The Night…
Notre Dame IS a Team of Destiny. Destiny isn't about luck, it's about continuing down a path set before you. The Fighting Irish will continue to do what they have done all season- find a way to win the game. It may get ugly. Real ugly, but these are the games won in the trenches and they will do just that.
IRISH WIN 23-19