Welcome to a new era of the Irish Blogger Gathering. We've made some tweaks in the hopes of making this a better experience for all involved. I'll save you the time and refrain from explanation. I have the highest hopes that most of you are smarter than a brontosaurus and will figure it out.
Bowl season is rapidly approaching, yet most of us are still contemplating some of the activities from this season. We shall divulge- but first… The Players:
Now let's IBG this thing…
1. This season obviously had a lot of ups and downs. What else is new- it's Irish football. I want you to change ONE thing that happened to ND over the course of the season. However… this one thing will not change any score, or outcome in the win/loss department. What do you change?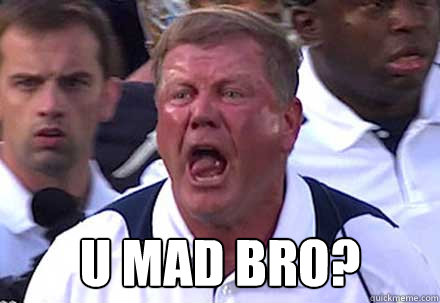 Matt Q.: I'd remove that whole "Oh my gosh, Kelly yelled at his players!" thing. Not because I think Kelly shouldn't have yelled at the players – he should have yelled at his players, and if they weren't getting his point, he should have ripped out the heart of one of the less valuable ones and eaten it. On the sideline. Before it stopped pumping. But I wish the yelling hadn't happened, or hadn't been caught on tape because a vast assembly of people who claim to be Irish fans apparently can't handle it. That same set of people probably demand that their special little snowflakes get a trophy at the end of every little league season and plan to sit in on the interviews when snowflake tries to find a job in the real world.
Mouth: Jonas Gray's knee injury. What a tough blow for a kid who's already picked himself up off of the matt from some tough blows. Good luck in your recovery, Jonas. Just look at Ryan Grant and Willis McGahee, if you need inspiration during this tough time. The timing of your injury sucks, but you'll find a home in the NFL.
LT: The stadium music. Hands-down. I'm not a huge fan of canned music in college stadiums in general (maybe this is the result of being a crotchety band alum, or possibly it's the result of horrible flashbacks related to the Penn State/Zombie Nation debacle of 2007), but I'm irritated about Notre Dame adopting it in particular because it seems so…artificial. I realize that there's going to be some adjustment period while they figure out which songs work better and which songs don't, but considering they've already devolved all the way to playing the "Hey" song (also referred to as "high school cheer" in certain discourse communities), I think it just needs to end now before it gets any worse. The only song that sounds remotely appropriate is "Shipping up to Boston" before the kickoffs, and even then I don't think there's any palpable shift in the crowd. The whole point is to attempt to increase the noise level in the stadium, right? But there's a difference between crowd noise and random canned music noise.
2. You did not predict 8-4. If you did, please never speak to me again. It's obvious that you are a dick. Having said all of that; what are your feelings about the season as a whole? Is Kelly and ND on the right path, or are we doomed for eternity? Or better yet; can we make any assumptions at all?
Steve in Iowa: No I picked 10-2, but I'm still a dick according to most people who know me. My feelings are extremely ambivalent, and I don't like things that make me feel that way. Yes, it is possible to think that Kelly is on the right path and be disappointed in with an 8-4 record. On the plus side the recruiting has been excellent, the defense is tremendous, and you can see that a plan is in place. On the negative side, the handling of the qb situation as well as publicly calling out players has been really troubling for me. I also think that it's fair for the coaching to come under fire for losing two games that should never have been lost. Michigan and South Florida are on the coaches pure and simple.
Poot: 8-4 is obviously a disappointment. I'm annoyed as all hell we blew that game against Michigan (sucks!) and let Hoke get 10 wins and somehow be BCS eligible. I don't think anyone is happy with how the season went. But, there were still obviously signs of progress within the program. Anyone ignoring that is just ignorant. I've listed those reasons in other places. But I don't think you can say one way or another whether or not BK will turn this around. There are reasons for hope and reasons to be worried. All that said, FIRE THE COACH AFTER YEAR 2. THAT WILL SOLVE EVERYTHING!
Mouth: For the record, I predicted 13-0 with a win over LSU in the national championship game. I wasn't far off. My personal feeling is that we are on the right path, but it will take Kelly until year 5 to really turn this program around. We're still building depth and upgrading talent, and I'm afraid that next year we'll be rebuilding—I don't think we're at the point where we can simply reload. Luckily, though, I don't think our schedule is that tough, and given our quality depth and good coaching, "rebuilding" will mean 7-9 wins, not 3. Every game is winnable, but I think it's fair to expect wins over Navy, Purdue, MSU, Miami, BYU, Pitt, BC, and Wake.
Ai: The magic eight ball says, "Reply hazy, try again" and my crystal ball is murky. Basically 2011 is a push because we have as many questions heading into next season as were answered this year.
Let me be as brief as possible.
On defense: Our front eight are solid but we have to completely rebuild the backfield. A weak defensive backfield can completely screw your chances – see the 2000s.
On offense: We lose Jonas Gray, Michael Floyd, and possibly Tyler Eifert (though I doubt Eifert will leave) Who is going to step in to replace either of those two/three guys? We didn't see a bump in our receiving play this year, if anything we regressed. Cierre is a good back but he can't do it all by himself.
Has 2011 done anything to establish the identity of our offense next year in any way? We don't even know what the tempo of our play is going to be and we are heading into year three – not good.
I don't think that we are doomed for eternity but we really missed out on a good opportunity to completely right-the-ship this year. 2012 is anything but a cake walk, so hold on to your butts.
3. The Champs Sports Bowl is still the most likely destination for ND in the bowl season. It's OK. They have a really great Twitter account ( @ChampsSportsBwl ) and a possible matchup of Florida State or even Virginia Tech is intriguing. That's all fine and dandy. I want you to pick the bowl game that you would like to see ND play. Of course I want opponent and outcome and all that nonsense. There is one catch (or several), it can't be any of the BCS bowls or the Champs Sports Bowl. There are like 48 other bowls. Choose wisely.
Matt Q.: If it can't be Champs (and I agree, @ChampsSportsBwl is awesome and hilarious), then I'd like it to be Beef 'O' Brady's Bowl because damn would that be funny, watching certain segments of the ND fanbase freak out over ND being in a bowl sponsored by what I believe to be the most faux-Irish chain restaurant in existence (I've never been. Perhaps Tilted Kilt is worse (also never been).). Outcome? Who the hell cares? I mean really, it was kind of fun kicking the snot out of an emasculated Miami last year, but really I'm sort of the opinion that if the bowl game isn't a BCS bowl game, then the participants should view it as a massive scrimmage/football laboratory. Which is also part of why I picked B'O'BB: St. Petersburg is lovely this time of year. Gotta give the fans some reason to travel.

Blog Davie: Since a BCS Bowl is out of the picture, most people would probably like to see the Irish in a January bowl game against an SEC team or other major conference opponent. I, on the other hand, would like to see the Irish matched up against Boise State in the MAACO Las Vegas Bowl.
First, a pre and post game bender in Sin City would be outstanding. I would probably start by hitting the paigow tables and knocking back a few mixed drinks and brewskis. Then I would stop by a sports book and place a few prop bets, e.g., taking the over on how many times the purple-face monster comes out during the game. After placing some bets, I would probably tailgate for a few hours, take in the game, rinse and repeat.
Second, I think Boise State would pose an intriguing matchup. The Broncos would be similar to Stanford talent wise (albeit a different style team), and it would be good to see ND face a team of that caliber again, particularly on a good playing surface. I think ND would make a better showing than last week, but the Broncos always seem to pull out wins when they have weeks to prepare. Smurfs 34 – Irish 28. . . Scratch that, ND would win 31-30 because Boise State's kicker would choke again.
Ai: I would like to see us play in the Gator Bowl vs. Ohio State. I know that it isn't going to happen but I would like to have a chance to punch Ohio State in the mouth before Urby shows up. It would give us something to point to in recruiting.
LT: I'm gonna go with the Chik-Fil-A formerly-known-as-the-Peach Bowl. (Seriously, sponsors, does nostalgia mean nothing to you?) Partly this is because it irritates me to no end that a 6-6 SEC team is going to end up playing an 8-4 ACC team (current bowl projection for this game is Clemson vs. Florida), which despite my enormous respect for the SEC kind of seems rude. Also I'd rather see ND take the SEC than the ACC slot in this game, because I'm sick to the teeth of people saying that Notre Dame should join the ACC. (An argument which perhaps undermines itself since I have the choice of any bowl in the country and I'm pitting us against yet another ACC team, but whatever.) And besides, can you imagine what a horrific job the media would do with the game if Notre Dame were playing Florida? Good grief. It would be nothing but close-ups of Charlie sitting in the booth with occasional cutaways to players he recruited at Notre Dame and constant rehashing of Kelly's "these aren't my recruits" gaffe earlier this season. The commentators would be able to speak of nothing else. (Although depending on which network airs the Eat More Chikin game, it would probably still be better than the Laura Quinn Fiesta Bowl of 2005.)
Anyway. ND vs Clemson in the Chik-Fil-A (no-longer-quite-so-peachy) Bowl, because I still believe that having a bowl game closer to New Year's means something, and I refuse to acknowledge that any non-BCS bowl taking place after January 1 (besides the Cotton Bowl of course) exists at all.
Whimsical prediction for this non-existent matchup: Notre Dame's defense remains stout, forcing only field goals in the second half. Our offense makes a miraculous, turnover-free comeback in the fourth quarter (possibly with the help of a kickoff return for a TD, courtesy of George Atkinson) for a nailbiting 28-27 victory.
4. 3-9, 6-6, 6-6, 7-5, 8-4. Notre Dame's regular season records over the past 5 years. Duh. Can we make any prognostications from these numbers? Should these numbers give Irish fans any hope, or is it that "hope" that is drowning the fanbase in negativity?
Mouth: We've been hamstrung for 5 years by lack of depth, then bad coaching, then bad quarterback play. But despite these records, we've pulled in top-15 recruiting classes in each of these years. We're getting the players, and now we have some at least adequate coaching. The arrow is pointing up.
Poot: You can only look at 7-5 & 8-4. That's all you can use to guess. The previous records were under CW. I guess you could argue that all that losing has affected the team and could be the reason they get so tight in big games. BK is trying to eradicate that from his program. Hence, the lame ass "his guys vs CW guys" non-story that became a story that Hamilton created.
Blog Davie: Most fans are tired of program building mode for the last 15 years, but the numbers do show some tangible progress. Although an 8-4 record this season is disappointing, ND is finally winning games against the Air Forces and Purdues of the world and doing it handily. The days of losing to Syracuse and UConn are over. The improvements in coaching and talent on the field since 2007 are dramatic. BK is building the program from inside out, and the progress can be seen in the trenches. The fact that the Irish are ranked 116th in turnover margin and still have a winning record is also a testament to the team's progress (I recognize that 16 of the turnovers occurred in the 4 losses, but this is still an impressive stat).
5. I fucking love Twitter. I can't get enough of it. Best Internet tool ever. In 140 characters, sum up Notre Dame's quarterback situation. Anything goes. Please include your Twitter name in the response (won't count against the 140). Bonus points and bonus love to those that actually tweet their answer and send a link.


MORE BONUS: Your feelings about Urban Meyer to OSU.
Matt Q.: Academically curious. I'm not that tied up about it emotionally. It might – MIGHT – make recruiting more challenging, but it's not like OSU ever struggled to recruit the top talent from Ohio. I will be completely surprised if he doesn't end his coaching career by dying while on the job though. The dude walked away from all he had at Florida ostensibly because of health issues. Those must have been some really serious health issues.
Mouth: Whatever. We just need to keep being us and do it well. Notre Dame and Ohio State just don't go after that many of the same guys. This has changed somewhat since Brian Kelly brought his Ohio connections to ND. But we don't play Ohio State, and I think that Meyer to tOSU is a lot worse for Michigan, State, Penn State and the rest of the Big 10.
Poot: Urban is going to fucking own with Braxton Miller…but I'm curious to see who his assistant coaches are before I declare it a total success. Urban is top 2-3 coaches of the past decade but a lot of his success was with Mullen & Strong. I'm curious to see how he does in a new place w/o them. He definitely struggled in his last year at UF without them but that could also be blamed on how run-down he is and adjusting to year 1 AT