#7 Notre Dame (5-0) v. #17 Stanford (4-1)
Notre Dame Stadium – South Bend, Indiana – 3:30 EST on NBC
ESPN GameDay is in town. Along for the ride is their #1 rated radio show – Mike & Mike. Sports Illustrated's Dan Patrick has deployed the Dannettes to Touchdown Jesus & The Grotto. Notre Dame is undefeated in mid October and just sent home, in order, three consecutive "name brand" opponents without allowing any to step into the end zone. Zero opponents after 5 games have taken a ball in for a touchdown on the ground. Notre Dame is in the Top Twenty nationally in the following categories: Turnover Margin, Pass Defense, Rush Defense, Interceptions & Sacks. The Fighting Irish are #2 nationally in scoring defense and one of three teams allowing fewer than 10 points per game. In a much publicized match-up of Top 20 teams this Saturday, the question is whether the opponent can keep pace with Notre Dame and not the other way around. Amazingly, these are not mid-Summer musings of an overly optimistic ND Message Board poster. This is real life as a Notre Dame Fighting Irish fan and player in October 2012.
First Thing – Notre Dame Football is exorcizing years of pent up demons in 2012. In the 4th quarter of a match-up with Miami, our biggest concern was the snapping of our defense's TD withholding streak instead of the actual probability of losing. Too many massive tilts for Notre Dame Football of late have featured every break going against the boys. Saturday night's first 9 plays featured two Miami dropped TD passes & another dropped ball by a Hurricane defender in Irish territory. After a few plays that left fans holding their breath, an entire squad shook off the bye week's rust and went about the business of obliterating an opponent of which they were far superior. Oddly enough the fan-base remains mostly in a state of cautious optimism. We BELIEVE in what we're seeing – a bigger, faster, more fluid bunch than we've seen in many years. Actually TRUSTING what we've witnessed week in and out is still a few big games away.
Second thing – I ripped off some thoughts on Rick Reilly and how this weekend plays so well into the plans of his article in concert with ESPN's preference of style over substance. It got too long to include in here so check the full rant out here.
That wasn't your father's Miami as much as it wasn't your young cousin's Notre Dame. The talent level for the Hurricanes defensively had to leave Warren Sapp, Ray Lewis, Ed Reed, and many other greats of "The U" wondering where the skill in South Florida has gone. Outside of Canes WR Phillip Dorsett and his stone hands, it became crystal clear which squad had the better athletes across the board. Combine the collection of better skill with a Notre Dame team that seems to get sharper focus as these bigger games wear on and it was a mismatch in the 2nd half. As an Irish fan it was such a punishing, enjoyable performance in Chicago and like many (myself included) said over the summer – those jerseys looked pretty damn nice at 5-0.
Everett Golson reached into his bag of tools and found more that he felt comfortable with than he'd ever been before … the bye week showed up so much in his play. The extra week seemed to allow him to focus on the game plan really well … I expect to see more running and spread option features each and every week." – Matt Mulvey, former Notre Dame Quarterback (08-11) on Monday's Man Cave Quarterback Podcast
We FINALLY saw examples of what many (ahem) claimed would be the difference between Brian Kelly's offense with Dayne Crist or Tommy Rees and one with an athlete like Everett Golson. It seems insane in Week 6, Game 5, that we'd finally see a read option from Golson. Kelly's unleashing of the running game for our young QB seemingly affected him in an extremely positive manner as he loosened up every aspect of his play. He ran when he needed to run and created space for himself in the pocket all night long. While four running backs scored 5 total TDs, I'd be hard pressed to believe that Golson's move in space on a waiting Hurricane linebacker that couldn't get a finger within two feet of No. 5 on the scramble wasn't the most impressive of the night. Wow. Time to move onto Stanford.
Five Things To Watch
5. The 3 Game, 4 Week, 12 Quarter TD Shutout Streak – These little things can take on a life of their own. First we keep the state of Michigan out of the end zone – wahoo! But can you find me an era in history where holding Michigan, Michigan State & Miami without hitting paydirt in consecutive games isn't otherworldly? Now the players and fans REALLY know about it and hear about it on every site and show available. When Stanford inevitably scores, does the disappointment hiccup the entire defense, even if for a series? Notre Dame shouldn't need to hold the Cardinal out of the end zone in order to win so hopefully the team AND the stands let the moment pass and move on when it occurs. It's been an amazing streak, but it's all gravy as long as they win.
4. Which Stanford defense is showing up? This unit held USC under 300 total yards and only 26 rushing. Three weeks later, with 3-5 fewer 1st round picks on offense, Arizona goes to Palo Alto and hangs nearly 500 yards of offense and 100 more rushing yards than SC on the Tree. This game's box score really has us wondering aloud "What the hell happened??" Arizona is in a brand new scheme with a new coach and a new QB. An optimistic Irish fan has to believe former Irish pal Rich Rodriguez exposed some weak links that Notre Dame is even better prepared to attack.
3. Tyler Eifert – A week after the Irish amassed 376 yards on the ground it'd seem pertinent for the Cardinal to make stopping the run a priority. Irish fans all love to believe Eifert is the best TE in college football and it's about time Kelly starts taking more advantage of No. 80 in single coverage. It's not "more important" but it's true that Eifert, in spite of a meteoric rise in his run blocking, is going to start falling off All-America & Mackey Award lists unless he gets a few big games on the board. He'll have to look no further at his competition than across the field Saturday where Stanford's fields not one, but two tight ends with more catches, yards and touchdowns than Tyler. Zach Ertz paces the two with a 21-316-2 stat line while 6'8" Levine Toilolo sports an impressive 13-278-2. Eifert trails with his 11-189-1.
2. Strength v. Strength – On both sides of the ball it looks very similar to the Michigan State match-up earlier in the season. Both squads are defined and led by the interior and front seven units while making due with outside skill positions that feature no breakout players (especially in light of Stanford's Ty Montgomery set to miss the game). We could be in for another dog fight and low scoring affair. My thoughts are the Irish are deeper at DL, more skilled with their offensive weapons and more comfortable gutting out this kind of game. Stanford RB Stepfan Taylor is a beast who is going to get some too.
1. Gunning for 8-0 v USC & Notre Dame – The Cardinal senior class is already 7-0 against the Trojans and Fighting Irish. If Jim Harbaugh had told any of these seniors as high schoolers this was attainable, their intelligent brains would have likely computed this probability at around .0001 or lower. As recruits they joined a 5-7 2008 team. While Andrew Luck and a few other 1st rounders contributed in Years 1-3, their takedown of Matt Barkley on September 15th might have been the most impressive and least predictable win to date. This Stanford Cardinal team is on the cusp of history and after physically shutting down the Irish and sending them home with their tails between their legs the past few seasons, you'd expect them to want to go out strong. If they accomplish this unbelievable feat we must tip our cap to maybe the greatest Cardinal class in history. Side note: The past three Cardinal teams heavily featured the #2 finisher in the Heisman voting (Toby Gerhart 09', Andrew Luck '10-11) and this team won't.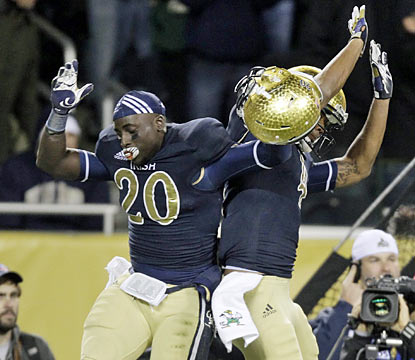 Predicting The Game & What We'll See
I really haven't hit the nail on the head in this segment yet. It really seemed on paper like Miami would find some holes in the Irish secondary. They did early but couldn't capitalize. Not sure it would have mattered as the game wore on. The Hurricanes also weren't Navy and ND did too many things well to believe a let down is on the horizon. The defense is playing with confidence and extreme swagger while the offense becomes a harder game-plan for opponents each and every week. The Irish, with the entire college football world watching, have yet another opportunity to show they belong back in the national spotlight and I expect them to take it seriously.
Stanford – Even with a healthy WR Ty Montgomery, Stanford would have needed to manufacture long drives against this Irish defense and that is not to their favor. Their tight ends will find some spaces but the aggressive defense will make them pay for each and every catch. They're going to score and I think more than once, but Bob Diaco will show why he's the hottest coordinator in the country while dialing up more pressure as the game wears on. This will be the best defense they've faced and their marked improvement during last week's win still won't be enough unless they force turnovers and catch some breaks.
Notre Dame – It'd seem crazy to believe Stanford has plugged all the holes punched by Arizona last weekend while figuring out new problems they'll face against Golson, Cierre Wood, Theo Riddick & George Atkinson III. Notre Dame will attack the edge of the defense and attempt to neutralize Stanford's stud inside linebackers with play action and more of the QB Zone Read we've started to see. Defensively, the Irish can use their front seven depth to harass QB Josh Nunes into some bad throws and hopefully some more turnovers. Tyler Eifert is going to finally break out when Stanford brings eight in the box and we'll see more than just one deep attempt to freshman speedster Chris Brown. I think we finally hit one. Based off past performances I expect Notre Dame to hang onto a 10 point lead from the 3rd quarter on and win another "statement game" that catapults them into the BCS's Top 3.
Game Vitals
Notre Dame (-7) Over/Under 44
Herring Bone Says Take Notre Dame (-7) & Push O/U
Final Score: Notre Dame 27-17
Follow me on Twitter @ManCaveQB and listen to my Irish podcasts at our feed or on iTunes. My solo podcast, The Man Cave Quarterback, features former ND quarterback Matt Mulvey breaking down the QB play in his "Red Army Review" and I'll be joined by former Irish players and current CFB writers and bloggers. Maybe even Subway Domer himself will stop by. This week's podcast featured Sports Illustrated video anchor Maggie Gray.