Im pretty sure I cant take it anymore. Football season is right around the corner and the opening of the Brian Kelly era is nearly upon us. Fall is in the air (actually its not, its still 75 and sunny here in San Diego) and that means Im ready to watch the Irish on Saturdays. The other day, I got to thinking about what I have missed most during this offseason and what I am most looking forward to this year. We all have those questions about how the season will go, what coach can do with this level of talent, how will Daynes knee hold up. I wanted to look at the other things that get me as an Irish fan excited about this years team.
The first couple things I was most excited about this fall were the changes that have taken place. The new NBC structure of timeouts and how it will affect my game watching. Obviously coach Kelly likes this, moving to 5 shorter commercial breaks instead of 4 longer ones will help his offense keep the pedal floored and the defense gassed. Instead of being happy with this change, I immediately thought of my personal commercial routine. First my Notre Dame game watching is slightly different then most people. I am a proponent of the solo game watch. I know its weird but I love being home on my couch, watching my TV, without the distractions of a drunk bar crowd or a waitress trying to give you the bill so you can leave and she can get on with her next tip. Being setup on the couch with the remote, laptop and my dog is what its all about for me. I don't even need food to be happy, but thats mainly because I couldn't eat during the games last year because of all the suspense. All that being said, my commercial break routine involves me rapidly checking and reading every single tweet that has to do with #NotreDame or #NDFB. During a normal commercial break, I would on average be behind about 50-75 tweets. With the changes to the NBC commercials moving from a 2:30 break to a 1:45 break, reading tweets is going to be tricky. I keep reminding myself that this change is for the better of the team, but I'm trying to figure out how I'm going to read all those tweets during the shorter commercial breaks? Speaking of twitter, give us a follow if your not already,
@SubwayDomer
26
and
@KGGBlog
.
I also want to apologize to anyone close to me that I have offended with my watching preferences. I like watching games with you, but not that much.
Next thing I'm looking forward to seeing this year is the change to the football. Brian kelly has brought over the Wilson GST F1003 with him from his time in Cincinnati replacing the Wilson F1001 that we have all been used to seeing at ND. This may be a little thing in many fans eyes, but we here at Subway Domer took
a look
at
some of the traditions
surrounding the ND football team and one thing we realized, its don't change a thing. Fans do not want to see artificial turf, fans do not want to see names on the jerseys. We want to see interlocking ND's on the uniform (thats foreshadowing) and the brown football we are always used to seeing. Kelly believes that the new footballs, with their light orange tint and black laces, hold up better in wetter conditions than the traditional wilson football. He has used them at GVSU and at Cincinnati and decided to bring them here to ND. Again, this may be for the betterment of the program, but I wonder how weird these newfangled orange and black footballs will look at Notre Dame stadium. Im excited to find out.
New unis. No getting around this one. People have been speculating all of season what the uniforms will look like and its time that we find out. Nothing better than turning on your TV on Saturday and seeing the Irish lined up in the tunnel. For all of Tom Hammond's faults, I love it when he says the most famous words in Notre Dame football "Here come the Irish". (Editors note: Why has Don Criqui never been considered for the NBC gig? He has some memorable radio calls. My favorite starts at the
1:50 mark
, ) Seeing the Irish run out of the tunnel in their blue uniforms is pretty awesome and this year we have that extra tinge of excitement being that the uniform has slightly changed. We're back to the ND interlocked and the sleeve and I think it looks pretty sweet.
Another aesthetic thing that really gets me pumped for the season are Notre Dame night games. I would say most purist love the Irish playing during the day, at home under the sun. I love the Irish playing under the lights. The helmets gleam that much more and I get that much more pumped. Maybe its the fact that I have to wait all day to see the Irish play, but I'm just that much more energized. Last year,the excitement leading up to the Purdont night game was palpable. All this talk about how Purdue has a big drum and how they Boiler up and all that other crap, ND came out and played a hell of a game. Night games on the road are awesome and I think the team responds to the excitement. When I close my eyes and picture ND games I always see the Irish at night, weird I know. This year we are treated the the Irish at night against Michigan (choke on some applesauce) State, Army in Yankee Stadium and USC. I personally can't wait for those games.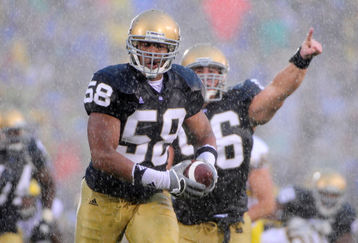 Revenge, 0-2 and the plethora of recruits gets my blood pumping for the Michigan game this yea. First off, getting back at Michigan for the debacle that was the game last year is on my mind. Getting screwed by the referees and dealing with Tate Forcier crap the rest of year was hard to take and I want that changed quickly. The Irish need this win and they need it bad, for my sake and that should count for a lot. Beating Michigan will set Kelly on the right path in many ways but none bigger than starting the year 2-0. Michigan opens with UConn at the Big House and thats no walk in the park. In fact, I think the Huskies go into Ann Arbor and beat the Wolverines. Irish beat Coach Rod the next week and Michigan begins to burn after starting 0-2. All of us in the world are better off when Michigan is 0-2. The last thing I am most excited about for this game are the recruits that are visiting that week. Running back Amir Carlisle,  DE Stephon Tuitt, the Atkinson brothers, and the rumor of all everything safety Wayne Lyons visiting, this could be the biggest week ever. Kelly could be 2-0, beaten Michigan to start the year and locked up a top 5 recruiting class, all by the 12th day in September. Im looking forward to that.
I know this list was long and boring, but its what I'm looking forward to this upcoming season, besides winning and everything. I want to know, what are you looking forward to most about this upcoming season. You might be most excited about seeing Kelly's new offense, or who locks down the X receiver position. Who knows, now that Kelly is 40 pounds lighter, you might be looking forward to the fact that people cant make fat jokes about our coach now. Leave a comment and let me know what your most pumped about, I'd love to hear everyones opinion.
8 days until kickoff.