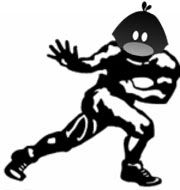 With all the moving and shaking happening within the Notre Dame football program, its pretty hard to continue to look at the entire college football landscape. Week 9 didn't have the season biggest matchup in terms of the Heisman trophy, but it seems now there are 2 clear frontrunners for the award.
How the poll works: The Bloguin Heisman Poll is an open collaboration of many dedicated bloggers here at the Bloguin Network that love college football. Each week, bloggers from across the country will send in their votes for their top 3 Heisman candidates (3 pts for 1st, 2 for 2nd, 1 for 3rd). The votes for the Heisman will be posted every week and you will be able to see the current leasers at fellow Bloguin member site, RandallSimonsSausages.com
1. Cameron Newton, QB, Auburn. Cam Newton and the Auburn Tigers beat the Ole Miss Rebels this past weekend 51-31. Newton was 18-24 passing for 209 yards and 2 TD's. Newton also rushed 11 times for 45 yards. He also showed his versatility when he brought down a jump ball in the end zone for his first receiving touchdown of the year. Newton didn't have the biggest of weeks by his standards but he is still 3rd in the nation in rushing and 14th in total offense and has 30 total TD's this season. He also is clearly the best player on the field for the 2nd ranked BCS team. If Auburn continues to win, and they should against their next two opponents, Chattanooga at Georgia at home, the end of the season Iron bowl could cement Newton's name on the trophy.
2. LaMichael James, RB, Oregon. James continues to quietly be the nations leading rusher averaging 172 yards per game. This past weekend against USC, James rushed 36 times for 239 yards, 6.6 YPC and 3TD's. James and the ducks have done nothing but put um gaudy numbers in the nations most prolific offense. Its scary to think how good Oregon's offense is and James is the key to that offense. Oregon and James have the #1 target on their backs and still have plenty of work left to do. Trips to Cal, where the bears are undefeated at home, the Civil war, and home slates against Washington and Arizona provide stiff tests. The Heisman trophy could come down to either Newton or James and whoever's team is undefeated, could lift the hardware.
3. Kellen Moore, QB, Boise State. Moore had another typical Kellen Moore week, 20-28, 298 yards, 2TD's and an INT in the win. Moore leads the nation in Passing efficiency and has a passer rating of 188.30 which is still 2 points higher than the highest rating ever. Unfortunately for Moore, he plays for a WAC team that doesn't have to many big named teams left on its schedule so he wont get the press that he deserves. The only chance Moore has at winning this trophy is if James and Newton falter down the stretch and their respective teams begin to struggle. If not, this clearly looks like a two horse race.
Don't forget to see where our picks rank amongst other bloggers at RandallSimonsSausages.com