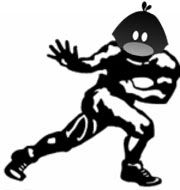 Week 8 has come and gone and its another up and down season for the Irish. Cam Newton didn't nothing but solidify his spot at the top of the rankings this week and he clearly is the leader of this Heisman race. If Newton can stay healthy and keep winning, can anyone catch him? Lets see who else made this weeks list. 
How the poll works: The Bloguin Heisman Poll is an open collaboration of many dedicated bloggers here at the Bloguin Network that love college football. Each week, bloggers from across the country will send in their votes for their top 3 Heisman candidates (3 pts for 1st, 2 for 2nd, 1 for 3rd). The votes for the Heisman will be posted every week and you will be able to see the current leasers at fellow Bloguin member site, RandallSimonsSausages.com
1. Cameron Newton, QB, Auburn. Newton had another huge game this past week and beat the #6 team in the nation. Newton was 10-16 passing for 86 yards but did the most damage with his feet. He ran the ball 28 times for 217 yards and scored 2 TD's. He also may have had that Heisman type play when he cut back and scrambled for 49 yards and the score. We should be seeing that play over and over again in Newton's Heisman montage. With big games left against Georgia and Alabama and stats padding games like 3-4 Ole Miss and 5-2 Chattanooga, Cam has a great shot of locking this trophy up.
2. LaMichael James, RB, Oregon. The nations leading rusher on the nations 3rd best rushing team deserves to be on this list. James had 20 carries for 123 yards and 2 TD's. He is currently averaging a nations best 161 yards per game and 7.25 yards per carry. He plays on the nations #1 scoring offense and is considered the best player on the field. If that recipe sounds familiar, just look at last years Heisman winner, Mark Ingram. Big week this week for James and the Ducks as they travel to LA to take on the Trojans. They also have big stages left on the schedule for James against Cal, Arizona and Oregon State.
3. Kellen Moore, QB, Boise State. Moore returned again this week with another workman like weekend in a win over San Jose State. Moore was 14-16 for 231 yards and 2 TD's for a passer rating of 250.03. Moore has a current passer rating of 190.35 this year. To put that into perspective, the highest passer rating in a single season was in 2006 by Colt Brennan, which was 186.00. Again, the biggest issue with Moore is playing time and competition, neither of which he can control. When Moore has the chance, he just puts up the numbers he is supposed to put up.
Don't forget to see where our picks rank amongst other bloggers at RandallSimonsSausages.com