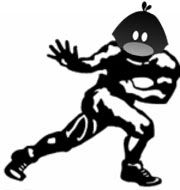 This week saw the top two performers continue to climb to the top of the charts this week. Newton and James continue to distance themselves as the frontrunners for the Heisman and unless their teams slip up, its a two horse race. With all the Cam Newton allegations this week, I personally took the stance that I want non-ND fans to take regarding the death of Declan Sullivan. Until all the facts are known and the investigation is complete, Cam Newton is the Heisman trophy frontrunner in my eyes.
How the poll works: The Bloguin Heisman Poll is an open collaboration of many dedicated bloggers here at the Bloguin Network that love college football. Each week, bloggers from across the country will send in their votes for their top 3 Heisman candidates (3 pts for 1st, 2 for 2nd, 1 for 3rd). The votes for the Heisman will be posted every week and you will be able to see the current leasers at fellow Bloguin member site, RandallSimonsSausages.com
1. Cam Newton did all that he had to do again in a tuneup game against Chattanooga. Newton was 15-21, 317 yards passing 4TD's and he added 24 yards rushing to his totals and a score. Newton was obviously working on his passing stats as he threw for 300 yards and 4 TD's for the first time this season. Newton and the Tigers face a tough stretch of their schedule now hosting a revamped Georgia team and on the road for the Iron Bowl. If Newton and the Tigers stay undefeated, this trophy is Cam's to lose.  

2. LaMichael James, RB, Oregon.  James did all he had to do this week in rushing for 121 yards on 26 carries and scoring 3 TD's. His team rolled to another victory beating up on Washington 53-16. James continues to lead the nation in rushing and is averaging 166 yards a game. Big week for his Oregon ducks this week as they travel to Cal who is unbeaten at home. It doesn't look like James can catch Newton in this years race unless Auburn slips up in their next two games. Oregon also has tough games remaining against Arizona and their stingy defense and the Civil War with the Beavers.

3. Kellen Moore, QB, Boise State. Moore was 30-37 (81%) for 507 yards passing, 3 TD's and 2 INT's. The dude was on fire against Hawaii and he continues to rack up big-time numbers this season. He leads the nation in passing efficiency at 192 and his team continues to win. Moore has some stat padding games still left on his schedule against 4-5 Idaho and 3-6 Utah State. He needs big games against Boise last two opponents with winning records, Fresno State and Nevada, but more importantly he needs Oregon and Auburn to lose if he has a shot at winning this trophy.

Don't forget to see where our picks rank amongst other bloggers at RandallSimonsSausages.com